It's frustrating when you pour your heart and soul into a new blog post, only to have it seem like Google is ignoring it.
Are you having indexing issues with getting new pages on Google? Don't worry, you're not alone. Many bloggers and website owners have indexing issues at some point or another. But the good news is that there are ways to fix it!
In this blog post, I'll show you some tips and tricks for dealing with indexing issues. By following these simple steps, you can get your new pages indexed by Google in no time. So let's get started!
Manually Request Indexing
One indexing issue is that Google may not be aware of your new page. This can happen if you've recently created the page, or if you've made changes to an existing page that Google hasn't picked up on yet. One way to remedy this is to submit your URL to Google directly. You can do this through the Google Search Console, which is a free tool provided by Google for webmasters.
After you hit "publish" on any piece of content, you should submit it to Google Search Console. There is a section that says "Inspect any URL in "your-site".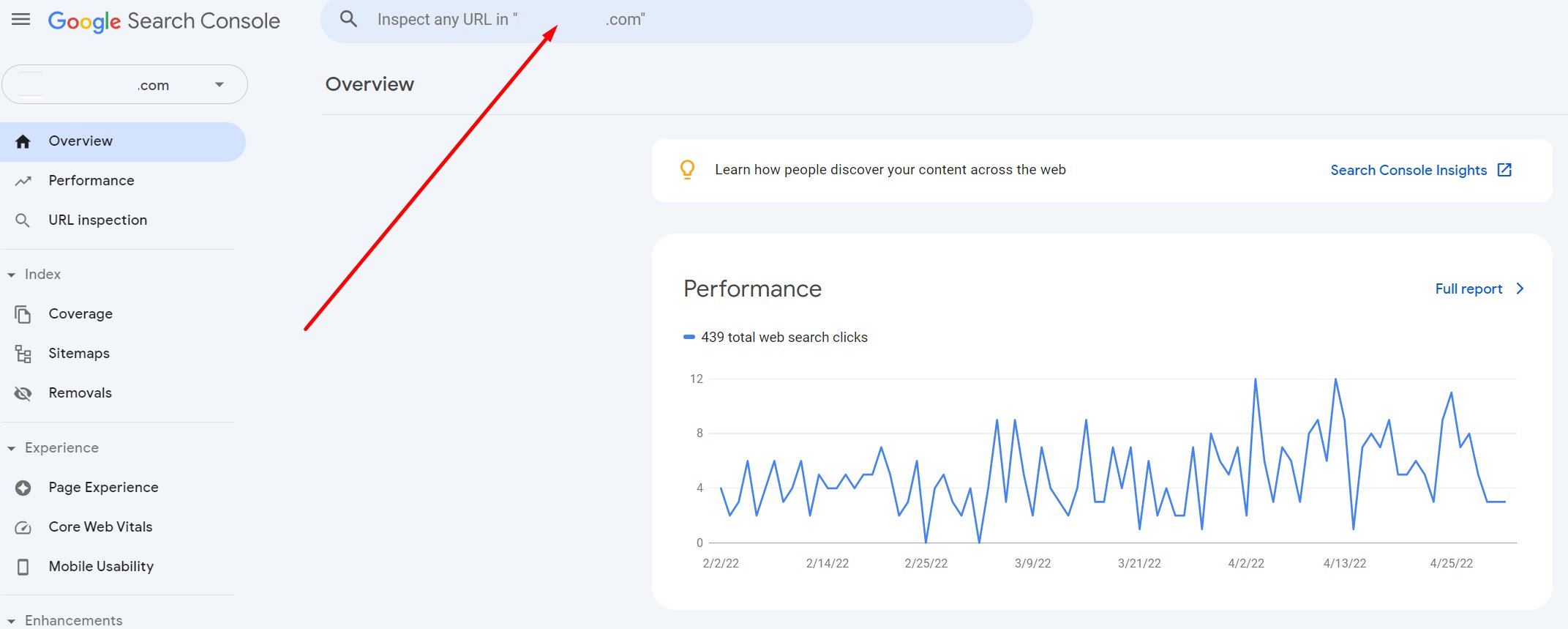 You'll get to this page, where it will tell you whether or not your URL is in Google. Since it's brand new, it will say "URL is not on Google". Click the "Request Indexing" button and it will put your new URL in a queue to get added to Google.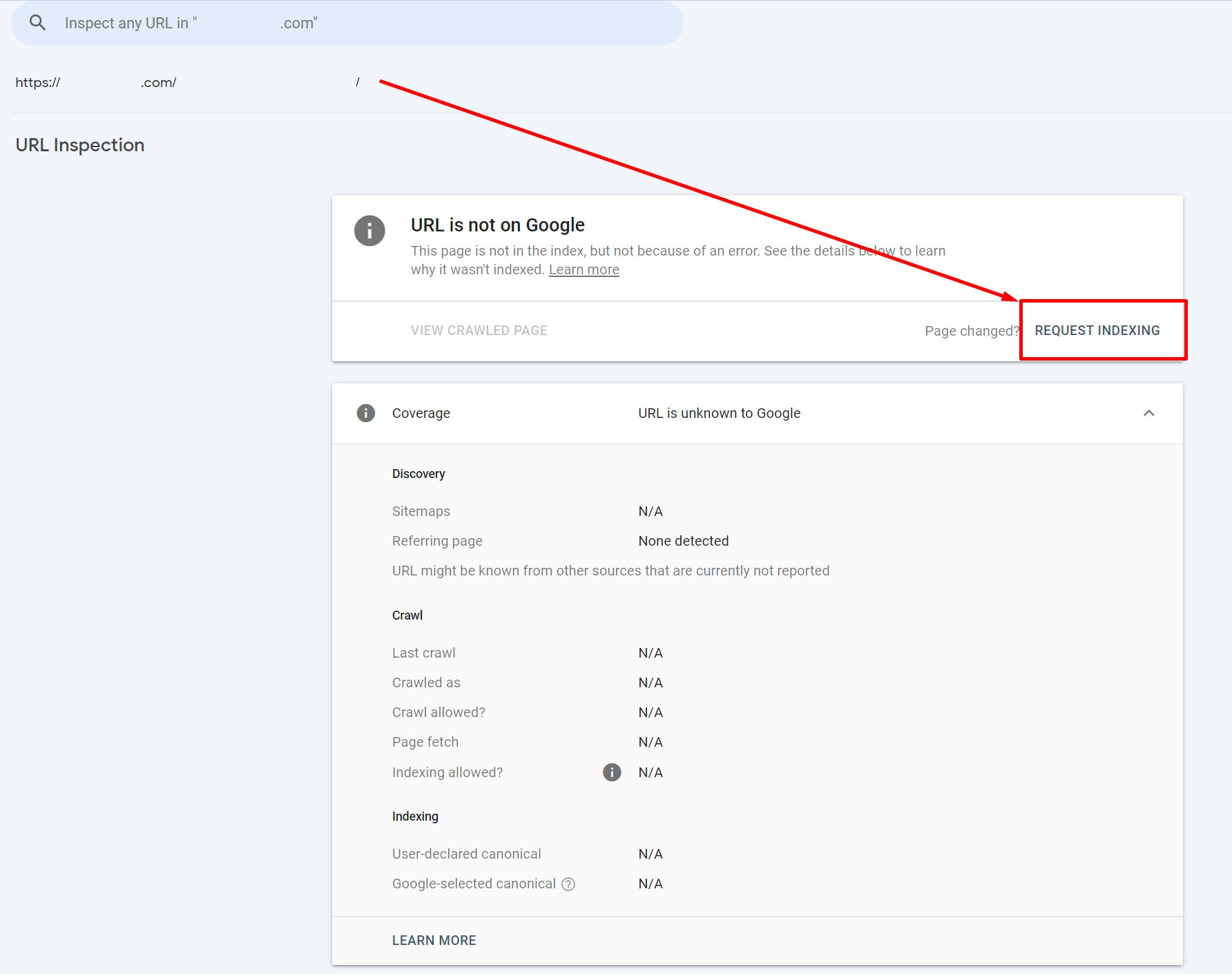 It takes about 10-20 seconds (sometimes longer). It's also worth mentioning that you can only do this a few times per day. There is a quota that will stop you from abusing this tool.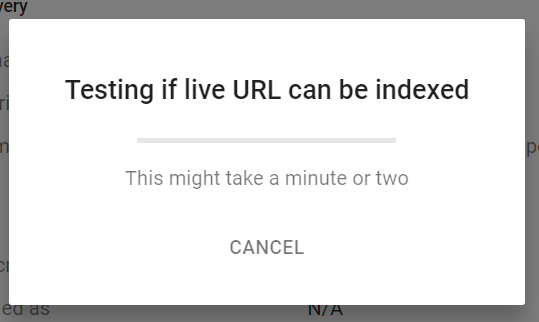 And finally, you'll get this popup to confirm you've requested indexing. On a brand new site, it will probably do nothing. On an aged site, it can take anywhere between 5 minutes to 2 days. The more traffic your site gets, the faster this works.

Congratulations on taking the first step in indexing your new blog post! Submitting your URL to Google Search Console is an essential part of getting your page onto Google's index. However, it's important to keep in mind that this process can take time. While it may be tempting to sit back and wait for Google to do its work, there are a few things you can do to help speed up the process.
Structure And Optimize Your Site Better
First, make sure that your website is well-structured and easy for Google to crawl. Second, create a sitemap and submit it to Google Search Console. This will help Google index your site more quickly. Finally, promote your content through social media and other online channels. The more people who see your content, the more likely it is that Google will index it.
Link From Indexed Pages
One of the best ways to improve indexing is by getting links from other trusted and indexed pages on your site. This tells Google that your new page is reputable and worth indexing. If you're looking to increase your indexing score, be sure to add links to new blog posts and articles.
Use An Indexing Service
Using an indexing service is a great way to skip the wait and get ahead of the curve. These services index new blogs on a daily basis, helping them to quickly start ranking for new keywords simply because they now have visibility on search.
Unfortunately, not all indexing services are equally effective. In fact, some indexing services use spammy methods that may even harm your backlink profile. That's why it's important to choose an indexing service that uses the cleanest methods only.
So how do you know if an indexing service is worth using? Look for a service that uses indexing methods that are based on quality, not quantity. Take some time to learn about indexing and how it works. The more you understand about the process, the better equipped you'll be to choose a good service.
I'll explain indexing methods in a future blog post. It's a huge subject with tons of methods. Until then, let's stay on the topic of indexing services. If you don't have the time to learn all about indexing, but you just want your pages indexed, what's a good indexing service to use?
My Experience Using An Indexing Service
I have never been a big fan of using indexing services myself, primarily because I'm always publishing new pages and the cost can add up. Recently, though, I decided to invest heavily in publishing new posts across several sites in order to take my content publishing to the next level.
At first, I was a bit impatient with how long it was taking for my new blog posts to show up on Google. But after several weeks had passed and nothing had changed, I realized that I needed to try a different approach. I decided to use an indexing service to give my content the boost that it needed.
I made an account on IndexMeNow.com and loaded up some credits (I took a moment to contact them and asked them to create a discount code for you guys. It's 10% off if you use KRYSIK10 at checkout).
I added my URLs to a new project and submitted them. Honestly, I wasn't expecting much from using this service. If they indexed my new pages, great. If not, then at least I tried.
After about 1-2 days, I got confirmation in my user dashboard that most of the pages were indexed with a screenshot proving it can be seen on search. I double-checked manually by searching the URLs on Google use site: search modifier. They were in fact being shown in search.
For one site, I was waiting for 15 articles to be indexed. You can see in the image below that I was waiting weeks for my new pages to get indexed. As soon as I used the indexing service, all those pages were indexed and it was reflected in my search console report.
I did this for a second site as well, and sure enough, within just a few short days, my blog posts were showing in search results and starting to rank for new keywords. For the site picture above, I had about 15 new articles that were like and not indexed. I paid about $0.80 per URL.
After this experiment, I can say that I'm convinced. I'm happy to have found an indexing service that is working. I'm still hesitant to overdo this. First of all, it can really add up if you're publishing lots of content. Second, I don't feel comfortable doing this too much. It isn't natural and it doesn't feel right. I think it is more of a grey-hat technique that has the potential to hurt a site.
If you are doing it once in a while and in short bursts, then it's fine. Otherwise, just stick to manually requesting indexing using Google search console and wait patiently. These issues DO resolves themselves given enough time.